Main Content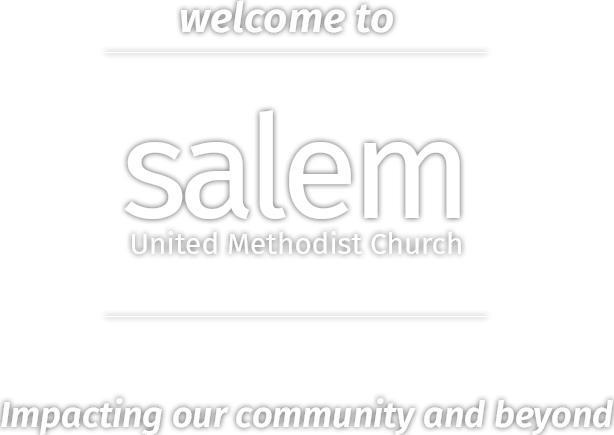 1321 Salem Church Road, Irmo, SC / 803. 781.1626
New & Noteworthy
*****    *****    *****
We have returned to live in-person worship.
We will gather in our church parking lot,
on the cemetery side

, for "Preachin' on the Porch"  at 8:30.
This out-door service is designed to be a bridge until we can gather at the lake.   Bring our own seating and an umbrella or tail gate tent, or just stay in your car.
The Sanctuary Service will be at our usual 10:30 AM time.
Please note:  We will be continuing our
Facebook Live worship each week as well.
We are offering three ways to  join us for worship:  live outside, live in the sanctuary and live on Facebook. 
Our hope is to provide as many options as possible so that as many as possible can find a why to worship within their comfort level.
Join us as we "Gather Together to Ask the Lords Blessings".
*****    *****    *****
Salem Mission Project
Epworth Children's Home
We will receive our 'alternate'
Mother's Day Offering
on Sunday July, 19th
Additionally we will be collecting supplies to help replace items lost in the recent fire in a storage building.
Suggested supply list:
Tilex
Duffel Bags
Brooms & Dust Pans
Mops & Bucket
Alcohol Free Mouth Wash
Floss
Laundry Detergent
Face Masks
Paper Plates
Paper Cups
Plastic Utensils
Nail Clippers
Twin Comforters
Socks (Men & Women)
Underwear (Men & Women)
Spray Bottles
Windex
Bath Towel and Washcloth Sets
Dish Towels
Plastic Laundry Baskets
Liquid Hand Soap
Soap Holders
Lysol Spray
Bleach
Clorox Wipes & Spray
Hand Sanitizer
Pine Sol
3.0 ShopVac
Ziplock Bags
Hair Dryer
Hair Dryer with Comb
or go to the following web sites for specific items:
Amazon Wish list:  https://www.amazon.com/hz/wishlist/ls/Y8A4WEGNPX18/ref=hz_ls_biz_ex
Walmart Registry:
https://www.walmart.com/lists/view-events-registry-items?id=8766965e-0a2e-4eab-8138-64b481c72c37
*****   *****   *****
Open Air Market @ Salem UMC
Friday afternoons 4 – 7
New Vendors Regularly
*****    *****    *****