Main Content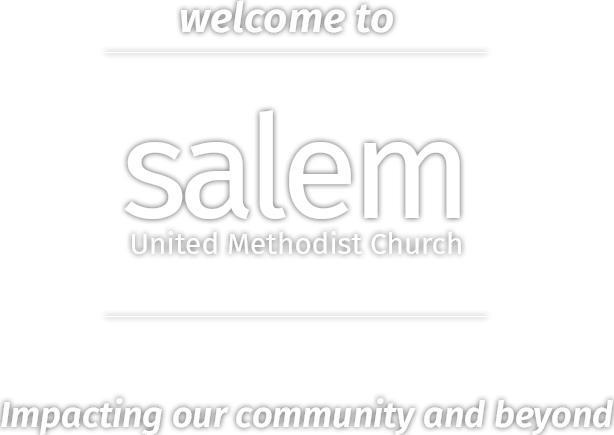 1321 Salem Church Road, Irmo, SC / 803. 781.1626
New & Noteworthy
2020 Christmas Mission Project
Our 2020 Christmas Mission Project is under way.  This year we are supporting the Prisma Health Children's Hospital Child Life Team.
To see the total list of suggested items for gift giving see the mission project in the the Forms page.  salemumcsc.com/forms/
If you prefer to make a monetary donation enabling the purchase of items you may do that by sending / dropping off a check to the church or by using our e-giving option.  To do so, go to the Giving page, select "General Funds" and in the notes section designate the funds "for the2020 Christmas Mission Project".   https://giving.ncsservices.org/App/Giving/ncs-2365
**********               ***********               *************               *************
There are especially focused worship services coming for the remainder of November
Sunday, Nov. 15th is Stewardship Sunday
Rev. Regi Thackston will be our guest preacher with a focus on "Growing Spiritually Though Giving".
The service will include a presentation of the 2021 pledge cards.
Sunday, November 22nd is Youth Sunday
Members of our youth group will lead that service and the theme will be "Where's Jesus".
Sunday, November 29th is the 1st Sunday of Advent
The sanctuary will be decorated and the stage will be set for us to begin the journey to Bethlehem that we may marvel at the coming Christ Child.
Join us live at 8:30 outdoors on the lake side of the Sanctuary
(in case of inclement weather, we will move to the Fellowship Hall)
Join us live or on- line at 10:30 in the Sanctuary
**********               ***********               *************               *************
We have returned to live in-person worship.
We will gather in our church parking lot at 8:30, for "Preachin' on the Porch"
  Bring our own seating and an umbrella or tail gate tent, or just stay in your car.
The Sanctuary Service will be at our usual 10:30 AM time.
Please note:  We will be continuing our
Facebook Live worship each week as well.
We are offering three ways to  join us for worship:  live outside, live in the sanctuary and live on Facebook. 
Our hope is to provide as many options as possible so that as many as possible can find a way to worship within their comfort level.
Join us as we "Gather Together to Ask the Lords Blessings".
*****    *****    *****