Main Content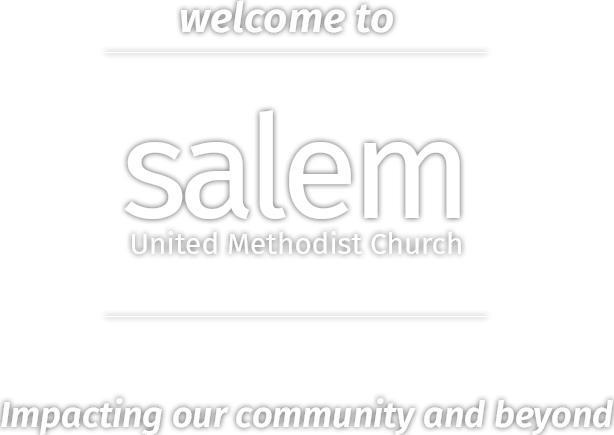 1321 Salem Church Road, Irmo, SC / 803. 781.1626
New & Noteworthy
*****    *****    *****
Until further notice all gatherings of Salem U.M. Church are suspended.
However, we intend to return for in person worship on Sunday, June 14th with both our Church on the Lake  and Sanctuary services.
The Sanctuary Service will be at our usual 10:30 AM time frame.
Church On the Lake will be at 8:30 am at the Woodman of the World site in Ballentine.
Join us as we "Gather Together to Ask the Lords Blessings".
*****    *****    *****
Farmers Market @ Salem UMC
Friday afternoons 4 – 7
Two Farmers:
The Good Life Farm
&
Livingston Farms
Drop in or order ahead at each farmers web site
*****    *****    *****
Our VBS Kids Mission Project
In January, a six year old member of our congregation, Molly Kate Shealy, was diagnosed with leukemia. She is currently undergoing a multi-year treatment plan. We'd like to show our love and support to Molly Kate and her family by collecting some of her favorite things (and some other practical things as well). Remember, this can be a fun way to involve your child(ren).
Restaurant gift cards – her favorites are Chic-Fil-A and Texas Roadhouse
Blind bag toys
Art supplies
Legos
LOL dolls
Gas gift cards
Grocery/Walmart/Amazon/Target gift cards
Monetary donation
(All cash will be given directly to the Shealy family. checks should addressed to Salem UM Church.  Please  include the designation "Molly Kate Shealy" .
 If you'd like to help but just can't collect any of these items at this time, that's ok too – perhaps you could just add Molly Kate to your prayers.
This mission will run from now until June 25th. There will be a collection box in the Salem United Methodist Church office.  The office is currently open on Tuesdays from 9:30-3:00.  You may also mail things to the church office.
*****    *****    *****