Main Content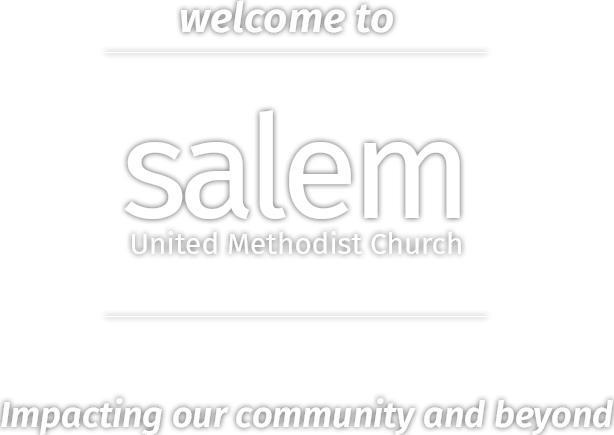 1321 Salem Church Road, Irmo, SC / 803. 781.1626
New & Noteworthy
Salem U. M. Charge Conference
Sunday, October 25
  5:30 pm
in the Sanctuary
This is an annual meeting intended to do two things:
1. To take a moment to look back at the previous year, to assess the strengths and weaknesses of the ministry we were  engaged in ,
and
2. To look to the future and establish some of the means whereby we will embrace the ministry of the days ahead.
Only officers of the Administrative Council are permitted to vote,  however, any members of the church are welcome to attend.
*****    *****    *****
All Saints Day
During both of our services  Sunday, October 25th, we will take a moment to note the lives of those Saints of our congregation that have 'finished their course in faith' and now 'from their labors rest.'
*****    *****    *****
Work Day in the playground
On Saturday,  October 24th beginning at 9:00 am we will gather  in the playground to begin the process of cleaning up and dressings up that area.   A small sub group have planed alongside of the trustees to create the plan.  There are tasks of various skill and strength levels included.  Come one, Come all, Lend a hand.  that projects are listed below.  Lunch will be provided.
1 – Pressure Washing certain equipment and sheds.
2 – Build stairs into the ground between playground and trailer area
3 – Pull weeds
4 – Throw out LOADS of heavy items.
5 – Wheelbarrow dirt and spread grass seed.
6 – Install Lattice barriers
7 – Clean up playground equipment.
Some of the equipment we will need if anyone can provide are:
Pressure Washer (heavy Duty)
Ladder
staple gun
skill saw
sawzaw
wire/bolt cutters
**********               ***********               *************               *************
We have returned to live in-person worship.
We will gather in our church parking lot at 8:30, for "Preachin' on the Porch"
  Bring our own seating and an umbrella or tail gate tent, or just stay in your car.
The Sanctuary Service will be at our usual 10:30 AM time.
Please note:  We will be continuing our
Facebook Live worship each week as well.
We are offering three ways to  join us for worship:  live outside, live in the sanctuary and live on Facebook. 
Our hope is to provide as many options as possible so that as many as possible can find a way to worship within their comfort level.
Join us as we "Gather Together to Ask the Lords Blessings".
*****    *****    *****